Helping you innovate and thrive
Our innovation service provides advice, funding support and access to specialist university expertise and facilities to help you develop new products, services and processes. Whether you're disrupting your industry with a new product or revamping a service to meet customer demand or reduce carbon footprint, we can speed up and de-risk the process.
We connect you with the specialist university resources and expertise you need to:
Design and develop new products or services
Test and refine new products or services
Enhance existing products or services
Develop new business models
Reduce waste and inefficiencies in your processes
Fund your innovation mission
If you have a gap in expertise that blocks innovation, we can help fill it. Through our university hubs, you can get access to a range of expertise, including engineering, environmental and bio sciences, digital, business, product design and social sciences.
And the journey doesn't stop there. We can also help you navigate the process of taking a new product or service to market with our commercialisation and investment readiness services.
We're your clean growth innovation partner, providing expertise, facilities and guidance as you evolve.
"The support is critical. Sustainability is at our heart of our expansion, but the R&D is beyond our expertise." Climbing Hangar
"The funding and advice has enabled us to bring an innovative new product to market." Akrovalve
"Working with Greentech South has allowed us to access university facilities." Smartlouvre Technology
A spotlight on: low carbon building technologies
Liverpool John Moores University's Exemplar Houses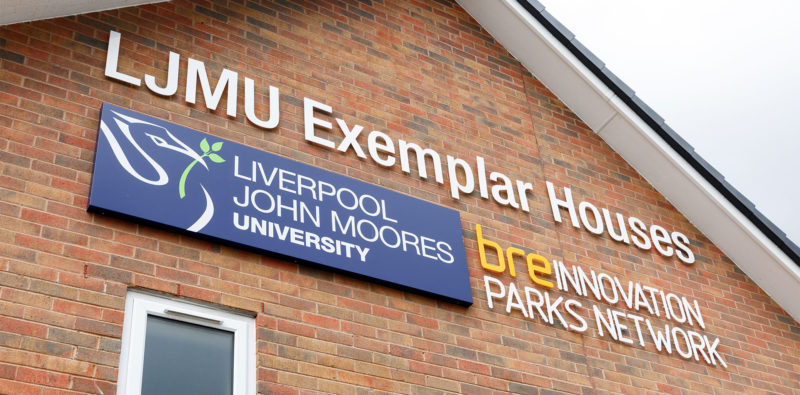 Our North Hub, Liverpool John Moores University, has three full-scale houses on its campus designed to standards from the 1920s, 1970s and present day. Businesses can work with LJMU to test and develop new green technologies and building methods in the houses.
In partnership with BRE (a world-leading building science centre), LJMU construction and technology experts are able to test a variety of green technologies that provide solutions to the challenge of reducing energy consumption and carbon emissions. Research carried out on the site will inform the construction and energy sector and government on options for tackling the UK's refurbishment challenge on existing dwellings, 90% of which will still be here by 2050.