Clean Growth UK's Rapid Decarbonisation Consortium is a peer-to-peer group that can help big businesses meet their sustainability ambitions.
Climate change is no longer a future threat. The science shows us that we have just ten years to act if we're to prevent catastrophic and irreversible damage to our planet and our lives. Beyond the bottom line, investor demands and consumer pressure, this is the private sector's opportunity to lead the charge against our generation's biggest crisis. There is no planet B.
Uncharted territory
The Rapid Decarbonisation Consortium is designed to help blue-chip peers learn and share best practice as they navigate the path to sustainable business models and operations together.  Mitigating the risks of a wholesale change in the way businesses operate and meet their energy demands requires new thinking, and this Consortium brings together businesses with sustainability experts from academia, government and business to advise and support members as they progress on their sustainability journey.
How does the Consortium work?
Four one-day meetings per year, with a dinner prior plus one facilitated site visit. The Consortium will address three core themes:
Developing a best practice sustainability roadmap for your company
Promoting a culture of change in your company
Benchmarking your progress
Members decide on meeting topics, to ensure that you all get what you need from the group, with international expert witnesses, academic researchers and policy-makers invited to provide insight and expertise into chosen topics. Meetings are held under the Chatham House Rule, ensuring a confidential and trusting environment away from the conflicting interests of consultants & sales-people. Between meetings, Consortium members often collaborate on side projects & initiatives.
Who's it for?
Sustainability leaders in large organisations. Organisations from any sector are welcomed: the need to transition to a sustainable, low carbon business cuts across industries.
What do I get?
You'll get the opportunity to create your organisation's sustainability roadmap with the support of peers and technical experts. You'll be able to benchmark performance against similar organisations and take advantage of collaborative project opportunities. You'll leave with a sustainability plan that is tailored to the needs of your organisation and has been reviewed and approved by peers and experts.
The Rapid Decarbonisation Consortium is based on the proven operating model developed by the Cambridge think-tank The Centre for Business Innovation, and is backed up by the knowledge and resources of Clean Growth UK, an initiative of three of the UK's leading applied research universities. Participating in the Rapid Decarbonisation Consortium will support the innovation, planning and execution of new solutions in your company, and introduce you to potential future collaborators.
Contact Mark Riminton on M.Riminton@brighton.ac.uk to find out more.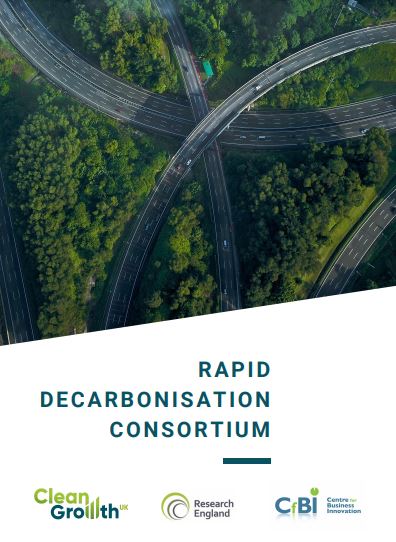 A joint initiative of Clean Growth UK and the Centre for Business Innovation (www.cfbi.com).