The Future of Energy
Energy has been disrupted and will never be the same again.
The energy system of the future will not look like today's. The traditional way of sending electrons and gas molecules down wires and pipes is ripe for innovation. Energy businesses of the future will provide those services cheaply and efficiently, using cleaner technologies and digital enablers.
Join the energy conversation on 10 September 2020 to discuss the Future of Energy, with Ripple Energy, Repowering London and more.
This virtual event will include parallel conversations about the energy system and what a low carbon future may look like. There will also be networking opportunities available for all attendees, along with access to the Clean Growth UK exhibition showroom.
Proceeds from the event will go to National Energy Action, the national charity working to end fuel poverty in England, Wales and Northern Ireland.
Choose from five conversations to attend:
Energy As A Service – the next big trend?
The Hydrogen Economy
Energy use of the cloud: how do we manage the internet's dirty secret?
The exponential march of solar and wind energy
Energy efficiency and social inequality
Energy As A Service – the next big trend
What is Energy As A Service and will this concept transform the way we consume heat and power?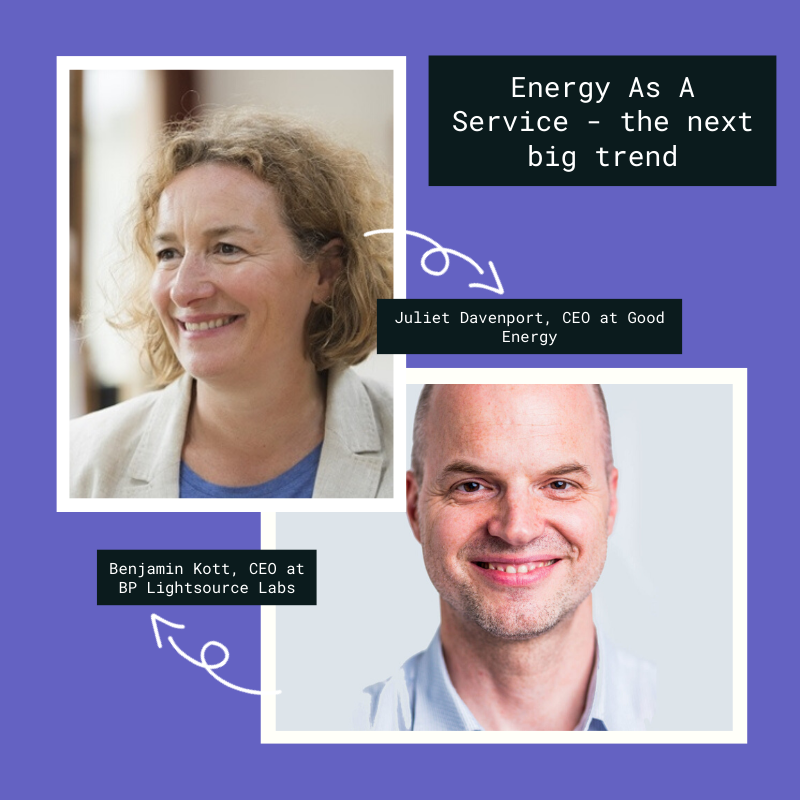 Juliet Davenport (CEO of Good Energy)
Juliet is founder and CEO – a 100% renewable energy company with a mission to power a greener, cleaner future together. Juliet continues to lead and innovate in the energy sector; in 2013 Juliet was awarded an OBE for services to renewables and in June 2015 was appointed to the board of the Natural Environment Research Council.
She has various appointments with academic organisations, including University of Wales, Imperial College, Bristol University and London School of Economics LSE, where she works on innovation and where possible influencing the next generation to think about the energy transition and our low carbon future.
Benjamin Kott (CEO of BP Lightsource Labs)
Benjamin is CEO of BP's in-house digital innovations arm, Lightsource Labs. Lightsource Labs has launched 'Tribe', a connected and intelligent energy management system comprising of a flexible smart hub and a powerful mobile app. 'Tribe' enables customers to reduce their carbon footprint by increasing energy autonomy and solar self-consumption. Customers can also take advantage of low-cost electricity pricing and manage smart devices in their premises.
The Hydrogen Economy
Should we be transforming our existing hydrocarbon-based infrastructure to run on hydrogen, to cut our CO2 emissions and reach net zero?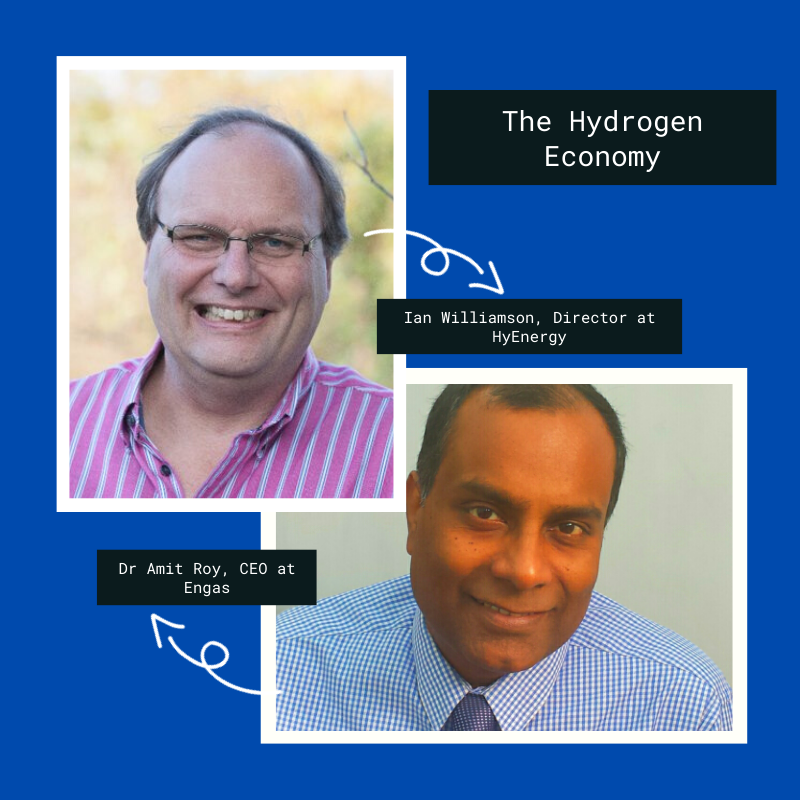 Ian Williamson (Director at HyEnergy)
Ian is UK General Manager for Areva H2Gen, a French electrolyser company using PEM technology for hydrogen production. Areva H2Gen is currently seeking energy storage applications for its electrolyser business.
Ian also runs HyEnergy Consultancy which offers technology and sales services to the sector. Previously, he spent 27 years with Air Products, the multinational industrial gases company, eventually becoming their Bio Energy and Hydrogen Director and spent 3 years as CEO of AFC Energy, one of the UK's few fuel cell technology companies.
Dr Amit Roy (CEO of Engas)
Amit has a background in fluid dynamics, thermodynamics, electrochemistry, development of new materials and integrated energy sysems. Amit worked for AFC Energy Plc a fuel cell company as the Head of Fuel Cells leading a team to develop alkaline fuel cells and system integration. He was also the founder and CEO of his own company RE Hydrogen Ltd.
Dr Roy is currently working for the University of Portsmouth as a Senior Lecturer in Renewable Energy Systems. He is also undertaking cutting edge research on hydrogen energy, batteries and CO2 capturing in collaboration with industries.
Energy use of the cloud: the internet's dirty secret
The gigantic data centers that power the internet consume vast amounts of electricity and emit as much CO2 as the airline industry. How can we reduce the carbon footprint of our video streams and internet searches?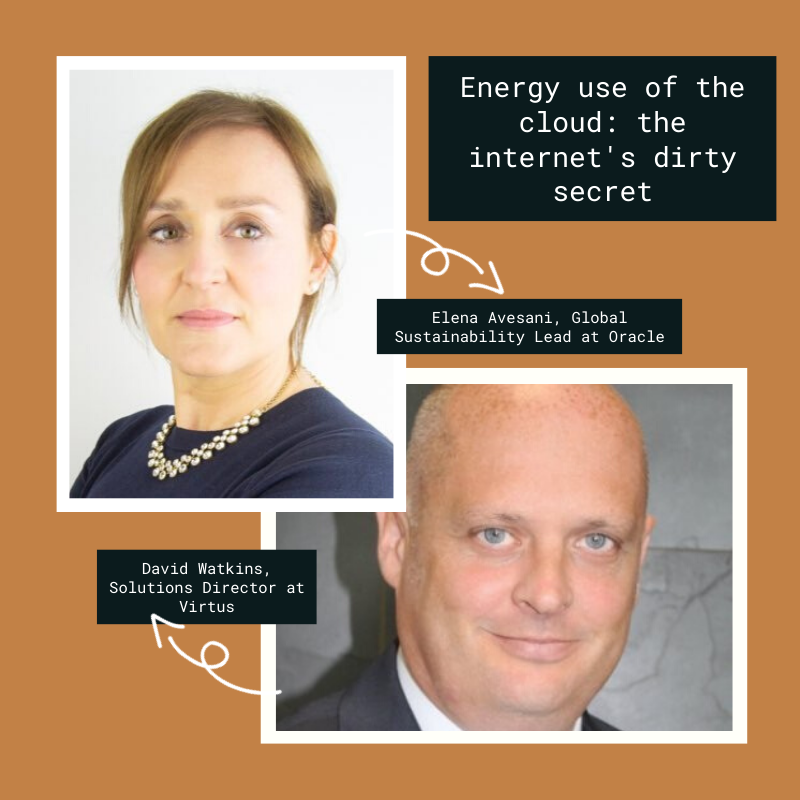 Elena Avesani (Global Sustainability Lead at Oracle)
Elena is driving Oracle's strategy on ESG programs and development of sustainability-enabling cloud solutions, leading to Oracle being ranked #10 in the U.S. and #17 worldwide by Newsweek 2016 Green rankings, listed in the CDP Climate A-List since 2015, and recognized as Outperformer by Sustainalytics in 2017 and 2018.
The exponential march of solar and wind energy
The cost of solar and wind energy has plunged in price faster than anyone has predicted. What are the implications of ultra-cheap solar and wind, along with grid-scale energy storage?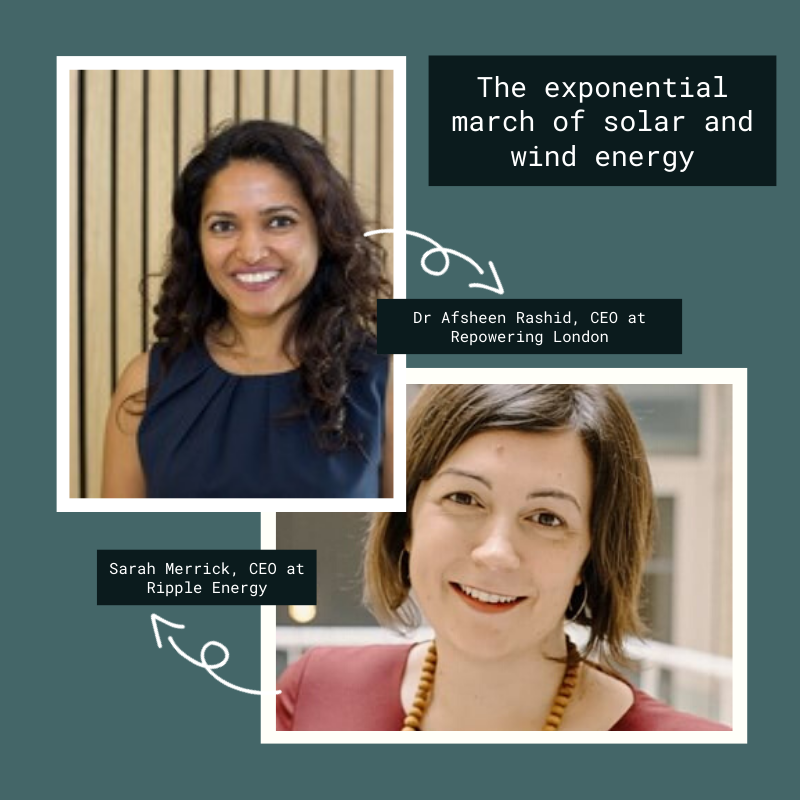 Dr Afsheen Rashid, CEO and Founder at Repowering London)
Afsheen is CEO at Repowering London and sits as Chair of the Brixton Energy Solar Co-operatives, the UK's first inner city community-owned solar power stations.
Alongside her role at Repowering, Afsheen is the chair of Community Energy England and a trustee on the board of Friends of the Earth. Prior to founding Repowering she was a senior policy advisor at the Department of Energy and Climate Change. She is a community energy specialist with more than 10 years experience working in the sector at local and national levels, including spearheading Lambeth council's community energy programme.
In 2016 Afsheen was awarded an MBE for her work delivering renewable energy to deprived London communities and, in 2018, she won the Regen Clean Energy Pioneer award.
Sarah Merrick (CEO at Ripple Energy)
Sarah is Founder and CEO of Ripple. She set up Ripple to bring clean energy ownership into the mainstream. She was frustrated that big companies could access low cost clean energy direct, but people couldn't.
She has worked in the wind energy industry for 18 years. Prior to setting up Ripple she was Head of Public Affairs for Vestas, the world's largest wind turbine manufacturer. Alongside her day job she was vice-chair of RenewableUK, the UK's trade body for wind and marine energy.
Energy efficiency and social inequality
High energy prices, low incomes, and inefficient housing disproportionately affect certain vulnerable groups. How can we retrofit our housing stock whilst ensuring these groups are treated fairly, in discourse and practice?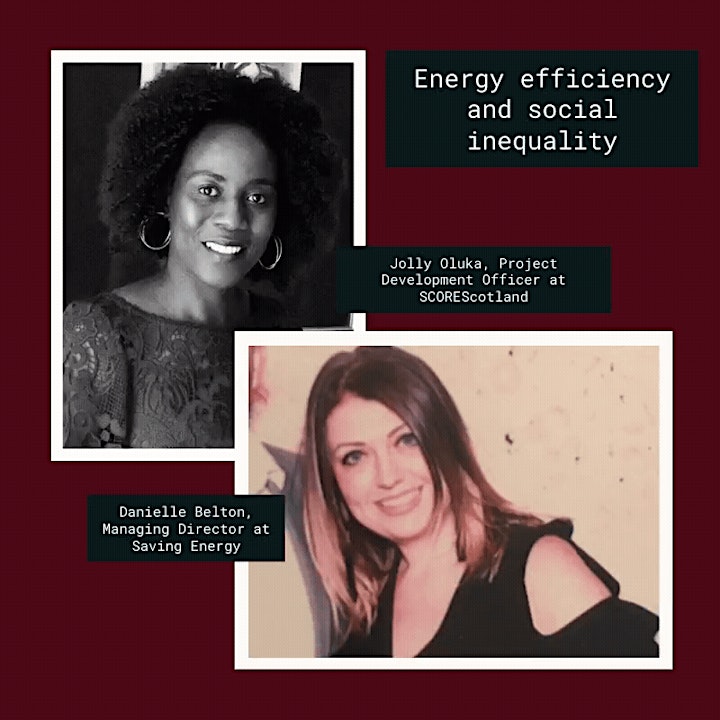 Jolly Oluka (Project Development Officer at SCORE Scotland)
Jolly is the Development Officer for SCOREscotland Green Futures Project since its inception in 2013. Her background is community education and development and her experience of working on a climate change project has compelled her to advocate for environmental protection and climate justice, as well as change her own behaviour in order to protect the environment.
She is particularly passionate about the impact of climate change on food security, and holds an MPhil in Demography, Certificate in Carbon Literacy, and City and Guilds Energy Efficiency Awareness. Jolly also volunteers her time at Tripod – a grassroots collective that supports groups fighting for social, economic and environmental justice.
Danielle Belton (Managing Director at Saving Energy)
Danielle is the Managing Director of Saving Energy Limited, an insulation and renewable company specialising in retrofit work. She has been involved in the insulation industry for 17 years and has a firm understanding of the installation and survey process and ensuring a quality customer journey.
Danielle also sits on the Customer Service Committee for CIGA. In addition she is a steering group member for the Snug Network, working with other installers to discuss and implement best practice across the industry.
Kaluza is the ecosystem of intelligent platforms powering the future of energy. From revolutionising billing to smart electric vehicle charging, Kaluza's technology is empowering some of the biggest energy suppliers to better serve their customers. Its real-time cloud platforms transform supplier operations, reducing cost to serve and boosting customer engagement. Powered by Kaluza, suppliers can invest in innovating for tomorrow's customers and drive decarbonisation with smart, low carbon technologies that not only reduce energy bills, but lay the foundations for a more flexible energy system.